As CEO of your company, the buck stops with you. You have an executive team you rely on to help your business function, but you know that at the end of the day, you are the bottom line. There is only one CEO in the company and, at times, it can be hard to find not only the emotional support you need, but also resources from like-minded individuals for decision-making and success. The good news is you're not alone; there are CEOs all over the world in similar positions and that's why there are CEO peer groups.
Resources for Success
While picking the type of group, keep in mind your goals for your growth. This group can help you grow your worldview, collaborate on problem solving, be a sounding board for ideas, and share best practices. At the same time, this is a community that will hold each other accountable for goals and decisions and be willing to tell each other the "hard truths" that they can't hear in their own companies. Some groups will have members facing similar challenges as you are and you can work through them together while other groups may have some members from differing industries or with opposing worldviews who can help guide and challenge you.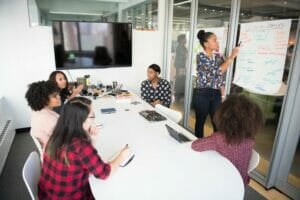 The Other Support You Need
While helping make decisions is one key function of a CEO peer group, another function is the emotional support a peer group can provide. Often, your company is more than happy to celebrate your successes with you, but the hard decisions that every CEO must make often come with little fanfare or celebration. In fact, those hard decisions, the ones that may mean your employees' jobs are on the line, are the ones most likely ridiculed by the people you see daily.
Your CEO peer group is there with you for that. Besides helping you come up with the best solutions for those hard times, your peer group is there to help you with the emotional trials employees or even leadership teams can't see. Your peer group understands what you are going through because they are going through it too. They can offer a level of emotional support no one else can. Humans are emotional creatures, even if the CEO has to project otherwise at times to their company. A CEO peer group gives you a place to still be a person, not just a CEO.
Find Your Group Now     
As CEO, you likely put the needs of your business before your own personal needs. But, as you can see, joining a CEO peer group doesn't just benefit you, the CEO, but helps your business by making you a better CEO.  Can your business afford to wait one more day for you to join a CEO peer group or, better yet, can you wait?